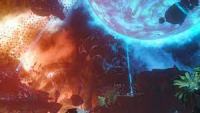 As said before, after igniting the Tombstones, a triangular stone has spawned on one of the jumppads scattered across the map. You must locate this stone, and subsequently summon a Keeper Protector and lead him to this stone.

Once arrived, it will start a ritual that takes about three minutes. Protect the Keeper while performing the ritual, as zombies will only attack him and not the player. During a parasite round however, parasites will only attack the player but not the Keeper. So it is advised to keep one parasite alive until the ritual is completed to make this step easier. 
Once the Keeper is finished, it will drop an audio reel. This can be picked up and must be taken to Nacht der Untoten, where one finds a recording device on the upper floor, on top of a crate. Place the audio reel in the device by interacting with it, and an audio file recorded by Sophia will play.