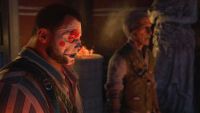 Locate a door on the right side of the River of Sorrow, from where you initially came to the underworld.
When numbering the symbols on the door from left to right, shoot the following symbols in this order:
12,  2,  15,  19,  6,   9
Or if easier, these are the locations of the symbols: 
3rd row #2, 1st row #2, 3rd row #5, 4th row #4, 2nd row #1, 2nd row #4.
Shaw and Bruno must interact with the door. If not on the map, Shaw and Bruno Bots will spawn. 
Place a Pegasus Strike on the blue symbol at the top of the River of Sorrow.  Pegasus will raise a crossbow from the river. Use a charged shot from the upgraded Hand of Ouranos to make the crossbow turn. Keep holding the shot until the crossbow stops moving.
Dip your shield into the Eternal Flame at spawn, then use the Venom trap near PaP and walk through it, still with your shield out. Your shield should have a green fire. Go back to the crossbow and melee it with your shield. 
Above PaP, the entry to the boss fight is available.